2016 APA SF Annual Portfolio Review was a great success!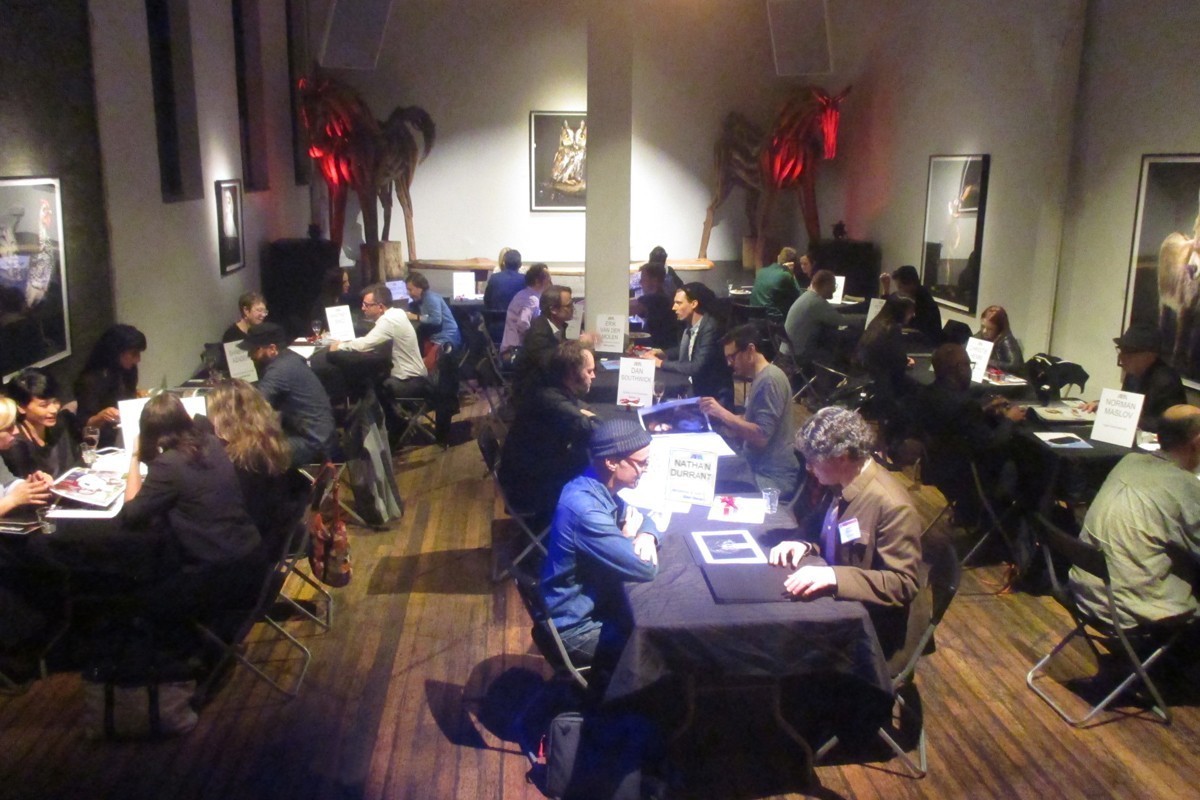 2016 APA SF Annual Photographer Members Only Portfolio Review
Meet potential new clients; show them your finest work.
This event took place on MONDAY, MARCH 7, 2016
at the 111 MINNA GALLERY, 111 MINNA STREET, SAN FRANCISCO
Thanks so much for having Rachelle (my Assistant Producer) and myself at last night's event! It was amazing. We met a lot of great photographers that align with the work we are trying to do. Hope to do it again next year!

Cheers,
Cecilia

Cecilia Caparas Apelin
Director | Indigo Sky Creative | SF
Special thanks to all of the APA SF Board Members, Reviewers (listed below), Sponsors, and Photographers who made the sold out 2016 Annual APA SF Photographer Member Portfolio Review another tremendous success! (We generally produce this annual event every March).








2016 APA SF PORTFOLIO REVIEWERS
BRIDGET WATSON PAYNE
Senior Editor, Art publishing Chronicle Books pippascabinet.blogspot.com
.
STEVE MAWHINNEY
Creative Director, Gyro & smawhinney.com
.
NATHAN DURRANT
Art Director & Lead Designer, Elixir
.
CHRISTIE HEMM KLOK
Associate Photo Editor, WIRED
.
NORMAN MASLOV
Norman Maslov : Agent Internationale
.
ERIK VAN DER MOLEN
Owner, Branding Designer OfficevsOffice
.
PETER JUDD
Creative Director / Partner, Hub Strategy & Communication
.
WHITNEY BAEZ
Senior Art & Print Producer, DDB California
.
VAL CARLSON
Executive Creative Director, Evolution Bureau (EVB)
.
CECILIA CAPARAS APELIN
Owner / Art Director, Indigo Sky Creative
Plus RACHELLE PHILLIPS - Assistant Producer, Indigo Sky Creative
.
BRITT GARDNER
Sr. Integrated Producer/Art Buyer - Freelancer
.
DAN SOUTHWICK
Director of Art Production, Eleven Inc.
.
HOLLY HOLMQUIST
Art Director & Senior Designer, Elixir
.
SHABNAM AZADEH
FOUNDER & Creative Consultant, ADHESIVE&CO www.helloadhesive.com
.
MARIANNE CAMPBELL
Photography Agent, Marianne Campbell Associates
.

Past Years APA SF Portfolio Reviewers
Anna Alexander, Deputy Photo Editor, Wired Magazine
Beth Johnson & Cristina Rivera, Friend Johnson Inc. Agents
Bobbi Wendt, Creative Consultant, Licensing Agent, former Photo Editor
Bonnie Butler Brown, Freelance Senior Art Buyer and Producer
Brian Inatsuka - Creative Director / Online & Social Media Photography, Athleta, Gap Inc.
Cameron Barnum, BBDO San Francisco, Content Producer | Art Buyer
Christina D'Arcy - Associate Art Director, Pottery Barn
Dan Southwick, Exec Art Buyer/Print Producer, Goodby, Silverstein & Partners
Danny Sanchez, Assistant Gallery Director, Modernbook Gallery
Deanne Delbridge, Creative Consultant
Ed Carey, Gallery 291, Gallery Director
Emma Campion, Ten Speed Press Creative Director
Eric Rindal - Partner / Creative Director, Big Sea
Gregory Itts, Skona Creative Director, Digital
Heather Elder - Photography Agent, Heather Elder Represents
Ilana Diamond, San Francisco Magazine Director of Photography
Jacqueline Fodor, Director of Print & Experiential Production, Venables Bell & Partners
James Hagedorn - Content Studio Director, DDB San Francisco
Jennifer Chapman, Artist Representative, Jennifer Chapman Represents
Jess Shay, Print and Art Producer, Venables Bell & Partners
Julia Sabot, WIRED Associate Photo Editor
Kami Shallenberger, Assoc Content Producer, Heat Agency
Karen Beard Shestock Founder / Creative Director
Karin Fittante, Art Buyer / Photo Director / Producer
Kristine Brogno - Design Director Of Children's Publishing, Chronicle Books
Laura Miley - Accounts Manager, EVB - Evolution Bureau
Madeline Belliveau: Senior Print Producer/Art Buyer, Pereira O'Dell
Melinda Estey: VP, Manager, Sr. Art & Broadcast Producer, Young & Rubicam
Michael Fiore, Associate Creative Director, Eleven Inc.
Michèle Adams: Creative Group Director, Giant Healthcare Advertising
MJ Rockers Grey Creative Services Manager
Natalie A. Betlazar, Photography Manager | Global Marketing, Logitech Inc
Nichole Berger, Art Director
Nicole Wiegand Freelance Freelance Creative Director/Designer
Noah Dasho - Senior Art Producer, Goodby Silverstein & Partners
Norman Maslov: Agent Internationale, Maslov.com
Porscha Ricketts, Photography Manager | Global Marketing, Logitech Inc.
Quba Michalski, Creative Director, Autofuss
Renée de Cossio: Curator & Exhibitions Designer, SFMOMA Artists Gallery
Rosey Lakos - Managing Photo Editor, WIRED
Sarah Fix - VP/ Creative Director, Blend
Susan Swift Nitrogen - Part of Huntsworth Health Creative Director
Tanya Spanier, Senior Art Director, The Hive Advertising
Tara Guertin, Director of Photography, Afar Magazine
Tim Paschke - Partner / Design Director, Resin Advertising
Photos: © 2016 Jeff Kausch