APA New York Presents Nick Brandt, The Day May Break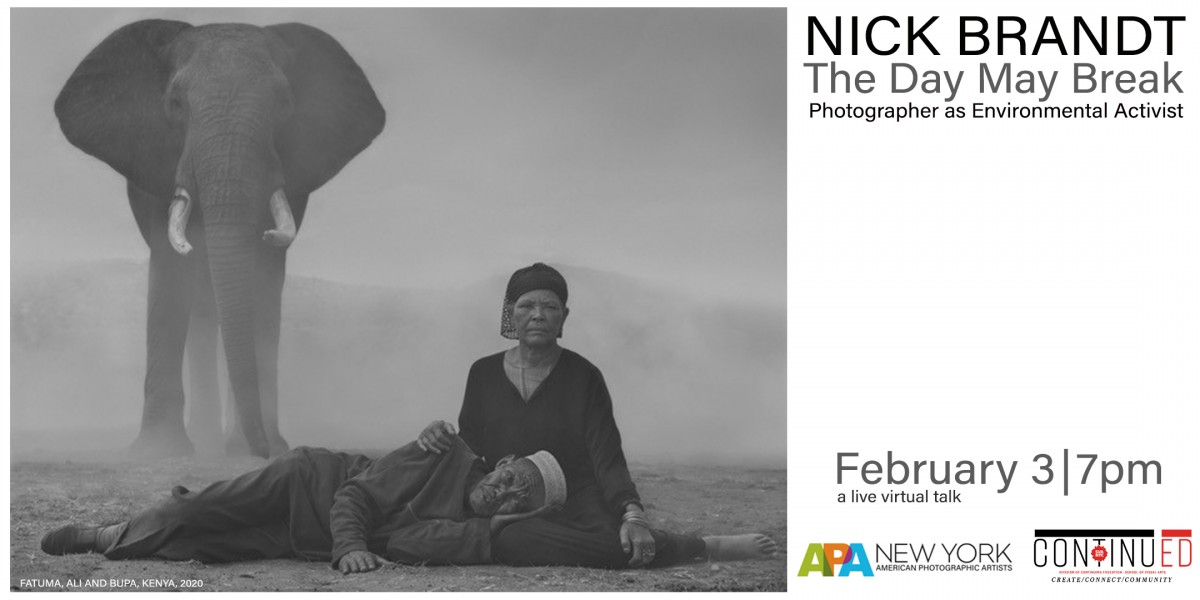 Nick Brandt is committed to the role of photographer as a social activist. He not only tells the vital stories of a natural world that is disappearing, but also used that imagery to try spread its important message to try to help save it.
In this talk, Nick will discuss his long term projects, including his newest The Day May Break. How does he produce the projects? Create the images? Exhibit and publish the resulting images? Nick will discuss all this and more. If you want to use your photography to tell important stories, you do not want to miss this!
The Day May Break is the first part of a global series portraying people & animals impacted by environmental destruction. The people in the photos have all been badly affected by climate change - displaced by cyclones that destroyed their homes, displaced & impoverished after years-long severe droughts.
The photos were taken at 5 sanctuaries/ conservancies. The animals are almost all long-term rescues, due to everything from poaching of their parents to habitat destruction & poisoning. These animals can never be released back into the wild. Now habituated, the people & animals were photographed together in the same frame.
Nick's talk will be followed by a Q&A (so get your questions ready!) This will be a great opportunity to ask about anything from long term projects and their place in our industry, to Nick's beautiful work.
ABOUT THE SPEAKER
Nick Brandt is an internationally acclaimed photographer whose work focuses mostly on the rapidly disappearing natural world, as a result of environmental destruction, climate change and man's actions.
For the last twenty years, Brandt has repeatedly traveled to Africa for months at a time to address the impact of environmental destruction on the natural world and now humankind. The result has been a body of work of stunning beauty that has been published in six books. He has also had solo gallery and museum shows around the world, including the Edwynn Houk Gallery here in New York.
Wanting to do more to address the killing of animals within the Amboseli/Kilimanjaro ecosystem in Kenya,Tanzania, Brandt founded the non-profit Big Life Foundation in 2010. Big Life Foundation now employs several hundred rangers who protect approximately 1.6 million acres of ecosystem.