APA LA presents Meet the Curator: Paul Martineau, Curator J. Paul Getty Museum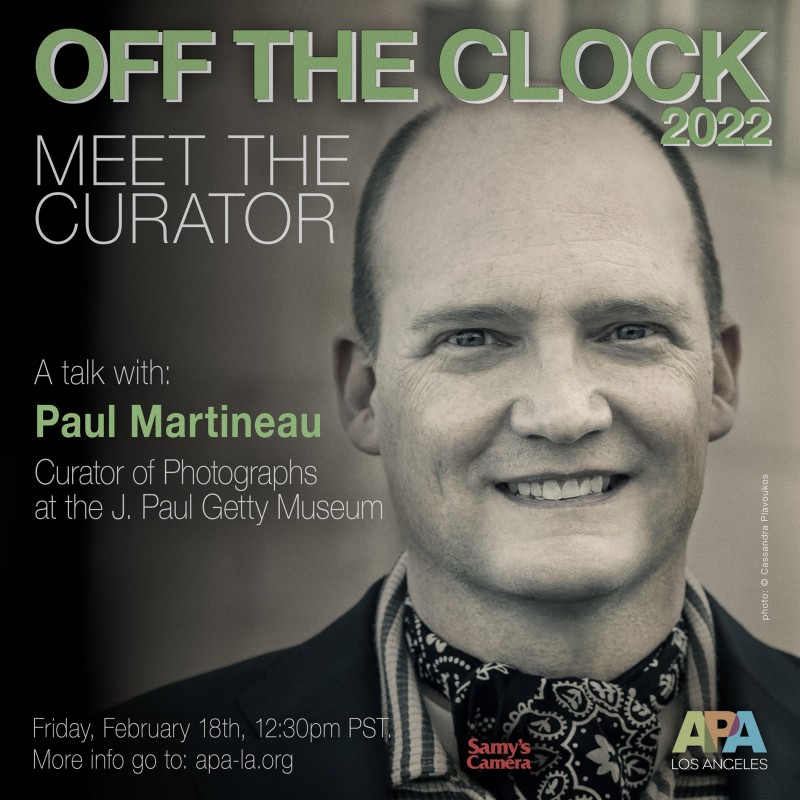 © Cassandra Plavoukos
Meet the Curator: A talk with Paul Martineau
American Photographic Artists, Los Angeles (APA LA) is proud and honored to announce that Paul Martineau, the influential Curator of Photographs at the J. Paul Getty Museum, will be curating our 2022 Off The Clock Competition.
To kickoff our March 1, 2022 Off The Clock call for entries, Paul Martineau will be presenting an online talk moderated by Cassandra Plavoukos (member of the APA LA Board of Directors) on Friday, February 18, 2022 at 12:30PM PST. This is your chance to meet and hear Mr. Martineau talk about his experience organizing numerous, thought provoking exhibitions.
Mr. Martineau received his BA from the University of Massachusetts Boston and his MA from the Williams College Graduate Program in Art History. Before joining the Getty Museum in 2003, he held positions at the Museum of Fine Arts, Boston, and the Sterling and Francine Clark Art Institute. Mr. Martineau has organized numerous exhibitions, covering a diverse range of topics spanning the medium's birth to today. He is the author or co-author of ten books, including, most recently, Imogen Cunningham: A Retrospective (2020), Icons of Style: A Century of Fashion Photography (2018), Robert Mapplethorpe: The Photographs (2016), and The Thrill of the Chase: The Wagstaff Collection of Photographs at the J. Paul Getty Museum (2016).
Moderator:
Cassandra Plavoukos is a Los Angeles commercial portrait photographer specializing in dance, fitness, and active lifestyle photography. Fueled by a lifelong passion for the visual and performing arts, her study of the formal, athletic, and whimsical nature of movement is integral to her commercial work and portraiture. Her vision as an artist is to create authentic imagery that honors the beauty of self-expression and celebrates the essence of "the human creative impulse" that she believes lives within each of us.
Join us for this exciting event and get a leg-up prior to entering the Off The Clock competition!