The 2021 APA SF Something Personal Exhibition

Our Twenty Fourth Annual APA SF
Something Personal Exhibition

View the Judges' top 100 selections in the Something Personal Online Gallery, here.
APA SF would like to offer a heartfelt thanks to everyone who attended our online 24th Annual Something Personal Exhibition Premiere & Holiday Party on December 9, 2021.
Close to 100 creatives, photographers, production professionals and friends showed up online to enjoy the Judges' top 100 original personal images on display from 54 talented photographers, listed below.
We want to extend our gratitude to everyone who participated by entering the contest, and especially to the Judges (also listed below) who selected the 100 finest images from a large number of entries.
A special thanks also to our sponsors (please see below) who helped us put on another very successful show. We simply couldn't continue to present such a quality event without their generous support.
Also, we want to express our deep appreciation to the many volunteers who helped with this years exhibition and party, most notably APA SF Board Members: Lisa Vortman, Nicole Morrison, Edwin Vargas, Sarah James, Nader Khouri, Lisa Wiseman, Peter Belanger, and Steve Babuljak.
APA SF would like to congratulate all of the 2021 Exhibitors and remind everyone to keep creating personal work throughout the year. There's a good chance you could be recognized in 2022 for creating Something Personal.
If you are interested in purchasing a print, please contact the photographer directly.

2021 Something Personal Judges
KAREN WILLIAMS, Photo Director/Producer
SHENA HICKMAN, Freelance Executive Content Producer
AMBER DOBSON, Senior Director, Video - Kendo Brands
JILLIAN SELLERS, Visual Editor - Parents.com
JENNIFER PUTNAM, Chief Creative Officer - Allen & Gerritsen
TANYA LASIEUR, Head of Production, Assoc. Partner MUH-TAY-ZIK / HOF-FER
TOBY KAUFMANN, Creative Director, Visual Systems - Facebook
SANDY WHITTINGTON, Senior Producer - Blink Media
SAMANTHA COOPER, Senior Photo Editor - WIRED
KELLY FAYER, Creative Services Manager - MANIFOLD
(The Judges' pro bios are included at the bottom of this webpage)

2021 Something Personal Exhibitors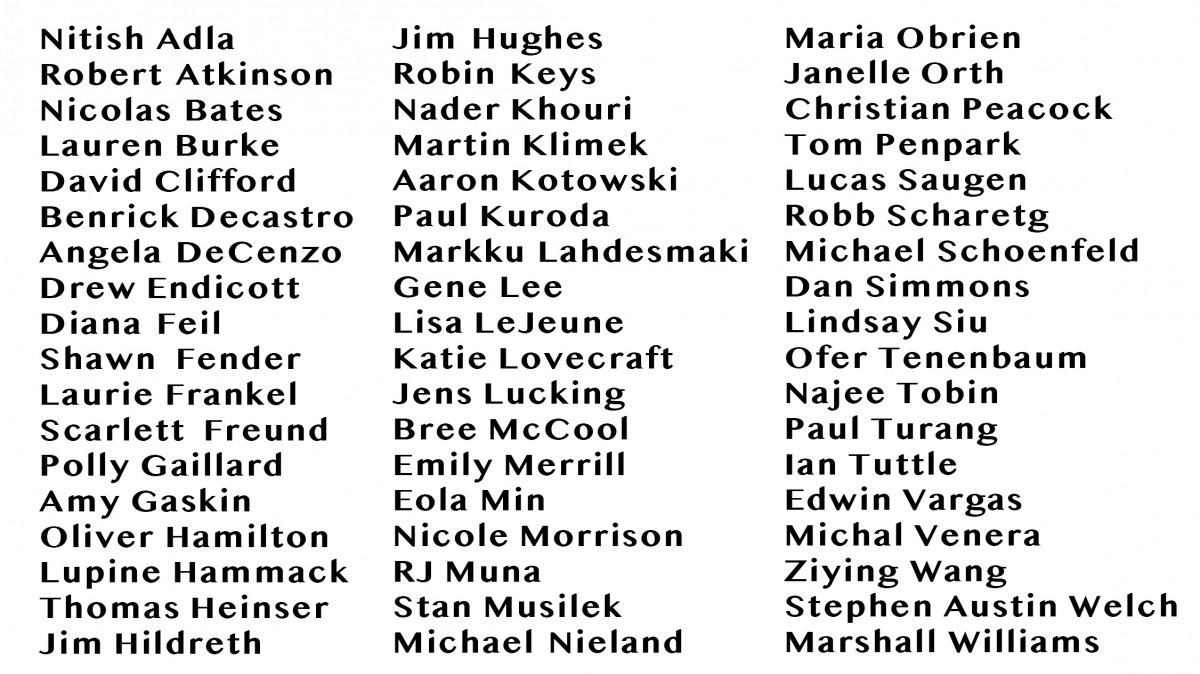 2021 Something Personal Sponsors

















2021 Judges' Professional Biographies
KAREN WILLIAMS
Photo Director/Producer
I am a photo department head and visual storyteller with 12+ years' experience at major regional and national media and brands. I have created and curated images for prominent institutions and media, including MasterClass, Square, Airbnb, Wired, AARP, San Francisco, and Southern Living magazines. I have also produced hundreds of photo shoots, spanning the entire creative process from securing talent to onsite logistics to post-production.
​__________________________________________________________

Freelance Executive Content Producer
Shena Hickman has spent the past 24 years determining visual identity, producing content, and executing celebrity talent contracts in advertising, music, publishing, fashion and technology verticals. Excelling in this industry has allowed Shena the opportunity to work with many talented photographers, directors and production partners on content productions domestic and abroad.
Shena has managed productions for Facebook, Rolex, PUMA, Tumi, Levi's, adidas Originals, Pepsi, Maybelline, Samsung, GMC, Ford, Verizon, Johnson & Johnson, Bank of America, Andrew Jergens, HP and got Milk? in a very client facing role. Shena prides herself on being a supportive team leader great with building successful marketing campaigns, photography, creative, design and production teams with a skillfulness in pulling various components together to see a project from inception to completion on time and within budget.
Shena is also a member of Alpha Kappa Alpha Sorority, Incorporated. It's the first Greek-lettered sorority established and incorporated by African-American college women in 1908.
​__________________________________________________________

Art & Print Producer
I believe that the definition of a producer is someone who gets stuff done. If I was going to write a book about producing I would call it "I Got A Guy (or Gal)".
These days there is rarely a traditional project that is simply a photo shoot or a printed brochure. There are so many new ways to get a message out into the world and most times it is something that no one has quite taken on before. But even if I haven't done it before, I bet I know someone who can help or refer me to someone who knows how to get it done. And having that experience and network is the key to being a good producer.

I spent the majority of my career at Goodby Silverstein & Partners. While there, I worked on every major brand that passed through the agency doors – Polaroid, Adobe, Elizabeth Arden Fragrances, Nike, NBA, Comcast, Princess Cruise Line and Chevrolet – to name a few. For eleven years, I was also the leader of an amazing team in the role of Director of Art & Print Production and Associate Partner.

I have had the pleasure of working with such diverse talent as Britney Spears and even an alligator.

I am now in the freelance world and have enjoyed working at a variety of places such as Facebook, Salesforce, 215 McCann, barrettSF, BSSP and GS&P. I have produced or project managed photo shoots, a live stream event, simple videos, product packaging, printed and digital out-of-home, a popcorn truck and store windows.

My goal is to embrace new challenges, meet talented people and find something to laugh about every day. And maybe one day I will even write that book.
​__________________________________________________________
AMBER DOBSON
Senior Director, Video
Senior Director in charge of video production for Kendo Brands: Marc Jacobs Beauty, KVD Beauty, Ole Henriksen, Bite Beauty, Lip Lab by Bite and Fenty Beauty.
​__________________________________________________________
Art & Photo Producer
Senior Art + Content + Photo Producer of award-winning advertising campaigns for DoorDash, UPS, Reebok, Columbia Sportswear, Salesforce, Apple, Harley-Davidson, and several fashion, automotive, finance, travel, electronics, and gaming accounts.

My specialty is moving mountains to source and produce stellar creative within budget and deadlines, while juggling all the plates of print, video and interactive production. Also negotiating usage/licensing, managing digital assets, light print production, and communicating in a lightening quick-paced environment with team members.
​__________________________________________________________
JILLIAN SELLERS
Visual Editor
Jillian Sellers has a passion for story telling in all visual forms for both print and digital media platforms. She is currently the Visual Editor at Parents.com. Previously, she worked in the visuals department at Hearst curating content across multiple different lifestyle brands including Cosmopolitan, O, The Oprah Magazine, and Good Housekeeping. Jillian's wide breadth of production and art direction skillsets include producing food, lifestyle, home, beauty, and fashion shoots. She also has extensive knowledge in documentary photography production and has had her documentary work nominated in the Eddie & Ozzie Awards.
Jillian is always looking for new and dynamic ways to curate interactive and immersive content that allows viewers and readers to feel connected to the stories they are presented with. She feels strongly about giving photographers and artists she works with the freedom to express themselves through their own lens. As a multifaceted multimedia producer and visual journalist, she is skilled in combining her talent for photos and videos to bring both print and digital media to life.
​__________________________________________________________
JENNIFER PUTNAM
Chief Creative Officer
Jennifer's career arc reveals her unquenchable thirst for memorable experiences, purpose-driven marketing and innovation. From DDB, Leo Burnett & Ogilvy Chicago, to the forefront of digital at Digitas and SapientNitro, she now serves as Chief Creative Officer at Allen &Gerritsen in Boston and Philadelphia.
Her dynamic vision, team-building style and passion for results has helmed integrated work, awards and firsts for a range of clients as diverse as Global NGO CARE, General Motors, P&G, and Blue Cross Blue Shield. As a champion for social good, diversity and inclusion — she actively mentors women in and outside of the industry.
Jen leads and lives with true passion and is happiest challenging herself and others to think and work differently. Be a part of something bigger than yourself – is her altruistic mantra.
​__________________________________________________________
TANYA LASIEUR
Head of Production, Associate Partner
Tanya LeSieur is widely known throughout the advertising industry as a creative partner who seamlessly guides collaboration across diverse teams and client brand teams to produce groundbreaking work. She has led cross production teams at creative agencies TBWA\Chiat\Day Los Angeles & New York, Saatchi & Saatchi Los Angeles & New York and Goodby, Silverstein & Partners (to name a few).
She loves the creative and production process and is a champion for our clients' work. Her passion for creating has helped win awards across every show from Cannes, D&AD, FWA, SXSW, Effies, to The One Show and beyond.
When not working, she loves spending her time between SF & LA; kayaking, cooking and hanging with her dog partners in crime, Ted Baxter & Liz Lemon.
​__________________________________________________________
TOBY KAUFMANN
Creative Director, Visual Systems
Facebook
Toby Kaufmann is an Award-Winning Creative Director, currently at Facebook. She is also the Creative Director of Pur·suit, a digital archive and deck of playing cards re-imagining Catherine Opie's seminal work from the 90's, in collaboration with artist Naima Green. In 2020, she curated a show of Naima's work at Fotografiska in NYC.
Before she moved west for Facebook, Toby was the Executive Director of Photography for Refinery29 where she led the brand's photographic vision and expanded video storytelling. She also served as Vice President of The Society of Publication Designers, and co-chaired SPD Gala 53. She consults for Parsons The New School for Design and her work has been recognized by The Webby Awards, American Photography, Photo District News, American Society of Magazine Editors, and SPD.
​__________________________________________________________
SANDY WHITTINGTON
Senior Producer
Sandy Whittington is a Senior Producer at Blink Media. Before working her way up as Senior Producer, Sandy worked in various roles in NYC as a studio manager, retoucher, producer, photographer, and photo editor for various outlets and international clients. Sandy is passionate about mentorship and connecting with young professionals breaking into the industry.
​__________________________________________________________
SAMANTHA COOPER
Senior Photo Editor
Samantha Cooper is the senior photo editor at WIRED. Previously, she was a photo and video curator at Instagram and a creative producer and photo editor at Airbnb. She has produced award-winning content recognized by The Society of Publication Designers, The Webby Awards, and American Photography. She has exhibited work and curated photography exhibitions throughout San Francisco, and she has taught photography at the Harvey Milk Photo Center. Samantha holds a BA in Film and Video from the University of California at Santa Cruz and currently serves on the City College of San Francisco Industry Advisory Board for photography.
​__________________________________________________________
KELLY FAYER
Creative Services Manager
Kelly Fayer is Creative Services Manager at Manifold, a creative experiential marketing firm. Kelly joined Manifold after 8 years as Owner and Executive Producer of Kelly Fayer Productions where she specialized in commercial video and photo production. With over her 15+ plus years in the industry in roles such as Art Buyer, Studio Manager, Artist Rep, and Content Producer she has a wide breadth of experience and is often referred to as a secret weapon on any project. She has produced dozens of award-winning campaigns for globally recognized brands. A right-brain thinker with left-brain output, Kelly has a passion for creative collaboration, communication, and flawless execution across all touchpoints of a project. When not working she can be found playing in the ocean or hiking a trail in sunny San Clemente, CA with her Archaeologist husband, two beautiful children and pup.
​__________________________________________________________
A list of past years Judges is here.
About Our Annual Something Personal Exhibition
The Key to Success is Your Personal Photographic Style
APA San Francisco's Something Personal Exhibition is well established as the most popular and prestigious Northern California photo community annual event.
Every recent year, between 600 and 1000 people have attended the in-person Something Personal Exhibition Holiday Party.
For more than two decades, these yearly exhibitions have offered professional photographers an opportunity to proudly display their finest examples of their own personal photographic style, without anyone else's art direction.
Commercial photographers, like all fine artists, expend considerable time, resources, and effort developing unique, contemporary personal work, not only to expand our own creativity, but also to add to our palette of techniques, and story-telling abilities.
This invigorating, rejuvinating practice accelerates our artistic growth, and it insures that our commercial work continues to be impressive, truly powerful, directly connecting ... and inspiring.
We know that our clients understand and appreciate that a refined artistic style is a crucial element in the overall success of every campaign.
Top creatives volunteer to judge these annual exhibitions for us, and in doing so, each time, they continually guarantee that we present only high-caliber, new imagery.
Exhibitions of brilliant images attract people who enjoy seeing strong images, before they become public.
Be a part of this annual unveiling experience -- one of profound professional, creative expression, and join us as we present our tradition of ... Something Personal.