Recent APA SF event, COLLABORATIVE NEGOTIATING video now viewable to APA Members Only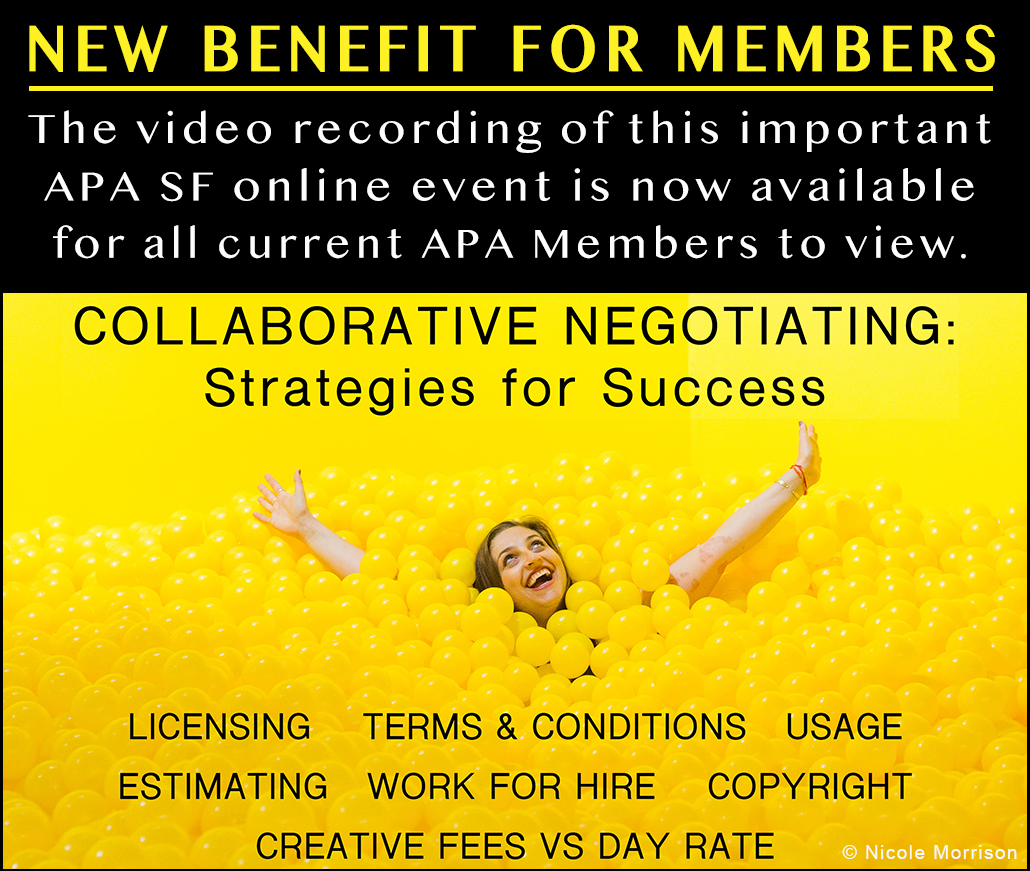 To access the video from this very popular May 26th event:
1. Login to your APA Member Profile
2. On your MY APA page, click on Discount Codes (in right-side vertical nav menu)
3. Scroll down the alphabetical list to COLLABORATIVE NEGOTIATING
4. Click on the direct Vimeo link
Please do not share this Members' Only link.
The complete Event Announcement is included below.
Not yet an APA member?
Annual Memberships start at just $50 for a wide range of valuable benefits.
APA SF Presents:
Collaborative Negotiating: Strategies for Success
Learning how to confidently negotiate with your clients.
Generously Sponsored by:



Event Description:
As photographic artists, we create unique, powerful visuals that elevate brands, individuals and industries every day. Whether you are new to photography or are an established artist, feeling confident and comfortable in your ability to negotiate with your clients is an ever-evolving skill.
Join APA SF for a panel discussion with industry leading negotiators Kelly Montez, Heather Elder, Shel Burks and Monica Zaffarano.
APA SF board member Nicole Morrison will moderate a discussion around collaborative negotiation practices with reps and producers who navigate these conversations daily. Listen in, pose questions and pick up strategies that can help you win jobs and feel satisfied and confident in the terms you've negotiated.
Primary Take-Aways:
Learn strategies that can help you win jobs and feel satisfied and confident in the terms you've negotiated.
Elevate your ability to effectively collaborate with your clients.
Learn the difference between creative fees and hourly/day rates.
Vendor terms and conditions
Moderator:
Nicole Morrison
Nicole Morrison is a lifestyle, product and food photographer based in San Francisco. She likes to create colorful, bold images that help brands tell their story and stand out online. She is especially inspired by people and brands that are working towards a more sustainable and just planet by improving our food systems, paying people fairly, sourcing materials ethically, creating clean products for our bodies and plates, and reducing plastic and other harmful waste. Instagram
Panelists:
Heather Elder
Owner, Heather Elder Represents
Bio: Heather Elder graduated from Boston University and started her career at an advertising agency on the east coast where she worked as an account person at Leonard Monahan Lubars and Kelly. It was while working on the Polaroid account that she realized her interest in commercial photography. She left the ad agency to become an agent and producer for a Boston based photographer where she used her agency background to develop her own style. 20 something years later, from her offices in San Francisco and New York, she is still representing photographers and directors, producing and recording a podcast, writing a bog and hosting a website for freelance art producers. Mostly though she is always thinking ahead. Instagram
Shel Burks
Producer, The Wall Productions
Bio: Shel began her career in the production world as a makeup artist over 20 years ago. Unaware of her eclectic and unorthodox background, one of her clients recognized her ability to effortlessly lead and oversee their productions and asked if she would be interested in becoming their Producer...the rest is history. The opportunity to utilize her left/right brained attributes (creative, managerial, financial, technical, etc.) became her dream job and she has never looked back. Shel has a solid, global reputation and is known for her "can do" attitude, calming spirit, and infectious smile. In 2008, Shel continued her faith in journey and decided to open The Wall Productions after a candid dinner conversation with her 9 year-old son. Since then, Shel has moved on to produce numerous print campaigns and film/video productions for some of the most prestigious clients. Instagram
Monica Zaffarano
Executive Producer, Trybe Production Collective
Bio: Monica Zaffarano has always been curious about everything. Not one to tread lightly in anything. She gets an idea and makes it happen and the wheels begin to turn. She's enjoyed every zig and zag in a very colorful career. The journey made sense once she discovered that "producing" is a real job. Known for her contagious (and possibly annoying) happiness and her joy with the concierge part of her job, she has expanded her company based on her belief that a successful shoot is based on everyone involved. Her worldview is based on "WE" not "I". One year ago she rebranded her company to TRYBE PRODUCTION COLLECTIVE. And it's all in the name! Instagram
Kelly Montez
CEO, Executive Producer, Apostrophe Reps
Bio: Kelly Montez is the owner of Apostrophe, an artists agency and production company representing both up-and-coming and established commercial photographers, directors and stylists with offices in New York and Los Angeles. With an eye for talent, both artistic and practical, Apostrophe is adept at translating their clients' and artists' needs and goals into exceptional work. Progressive in their thinking, the Apostrophe team always seeks opportunities to elevate their talent and their clients' work by focusing on innovative solutions for the photography community. Instagram
If you are not yet receiving our APA SF Event Announcement emails, sign up here.