APA Scope- Queer the Lens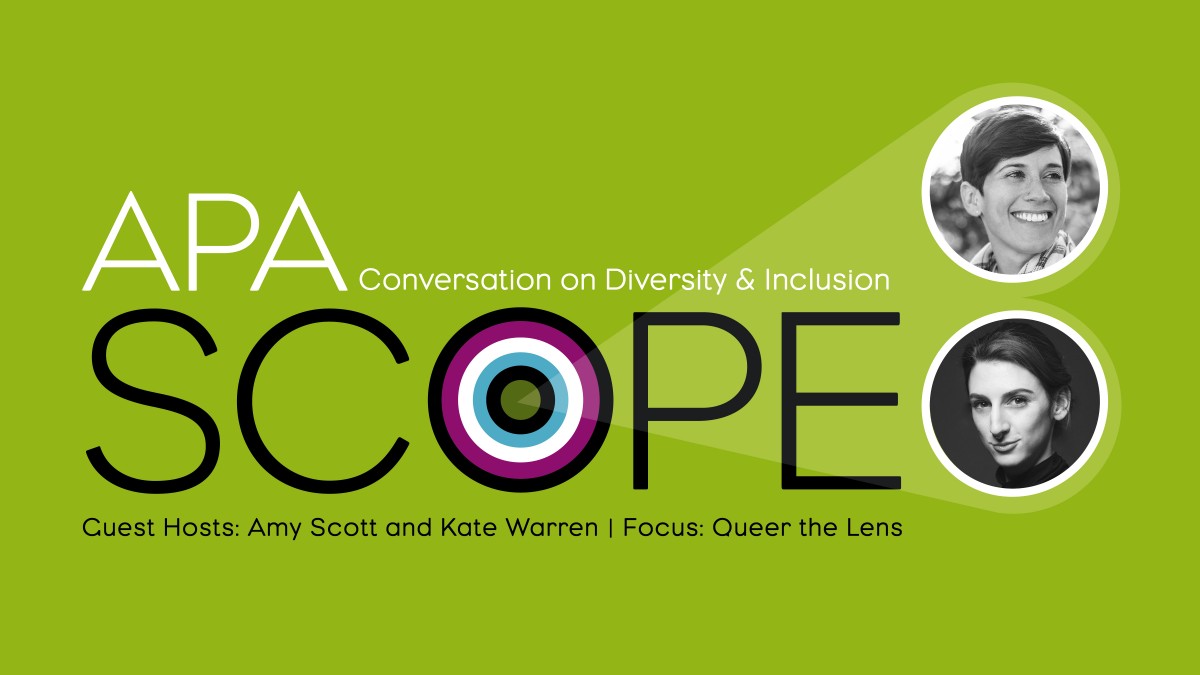 Join the APA Diversity Committee as we welcome two of the co-creators of the recent Queer the Lens survey, Amy Scott and Kate Warren, to moderate a conversation highlighting the work and perspectives of photographers from the LGBTQIA+ community. In this 60min SCOPE episode, we'll hear from three photographers of note as they share their creative vision and how they've navigated their career.
APA SCOPE -QUEER THE LENS
March 21, 2022
4pm pacific/ 6pm central / 7pm Eastern
Moderators:
Amy Scott (they/them) is an advertising photographer based in Houston, TX specializing in food, lifestyle and agricultural storytelling. Queer the Lens is their brainchild.
Kate Warren is based in New York. She makes work exploring intimacy, identity, and memory through photography, writing, and quilting. Her photographs seek out moments of ritual and emotional exchange, and as a queer artist, Kate works to expand how gender is represented.
Panelists Include:

From left to right: Coyote Park, Jen Rosenstein, Mangwen Cao
Mengwen Cao (they/them) is a photographer, artist and educator. Born and raised in China, they are currently based in New York. As a queer immigrant, they use care and tenderness to explore spaces between race, gender, and cultural identity. As a board member of Authority Collective, they are championing diverse narratives and perspectives in the media industry.
Their projects have been featured in publications like Aperture, The New York Times, NPR, Mashable, BUST, Foreign Policy, The Guardian, Sina, Tencent. They have participated in international exhibitions like Photoville, Jimei Arles, Lianzhou Foto Festival. Mengwen graduated from the New Media Narratives and Documentary Practice program at the International Center of Photography.
They received NLGJA's Excellence in Photojournalism Award in 2019. They were recognized by The Lit List in 2018, PDN 30 New and Emerging Photographers to Watch in 2019 and World Press Photo 6x6 Asia Talent in 2020.
Coyote Park (he/they) is a 2Spirit, (Korean, German, Yurok Native) artist from Honolulu, Hawai'i that currently lives in Tongva Territory (Los Angeles). They are a photographer and storyteller who is Indigenous to the Klamath River in Northern California.
Park's work aims to create queer utopia by photographing spaces of comfort, togetherness, and liberation. Park merges their written work with their passion for image making and has been working on a photo book entitled "All Kin is Blood Kin" (2020 - current) surrounding themes of family, rebirth, bodies, sexuality, and love.
One of the most major artistic works they are collaborating on with their wife, Tee Park, is a short film entitled "Destiny in Sedona", a non-monogamous lovestory film of Black, Brown, and Indigenous people that centers a 2Spirit, Intersex, Non-binary, and Trans cast. Their intention of their work is for it to be a pathway to healing and dreaming up new worlds.
https://coyotepark.format.com/

@coyotepark
Jen Rosenstein is a native of Los Angeles, where she works as a director, photographer and artist. Rosenstein graduated in 2008 with a BFA in Photography from Art Center College of Design. Her work can be seen on national ad campaigns for McCann Erickson NYC / TBWA\Chiat\Day LA. She shoots Grammy award winning artists like Jason Mraz, Pentatonix, Jennifer Hudson, Foo Fighters and many more. Her most recent published book, Rock & Roll: An Intimate Portrait was released last year, along with her solo exhibit of her journey photographing the music industry.
Rosenstein's photography is a reflection of her deep relationships within a creative community of musicians, artists, filmmakers and LGBTQ people. While her subjects are strong, her images seek to capture transformation and vulnerability – a trusted emotional exchange between friends, immortalized.
As a woman behind the camera – Rosenstein likes to explore all the ways that femaleness presents, including what it means to take up space in the world as a woman. Music, joy and abundant feeling is the heartbeat of her collaborations, and her series of beautiful, human portraits the result.
FB: Jen Rosenstein
LinkedIn: Jen Rosestein
Twitter: @jenrosenstein