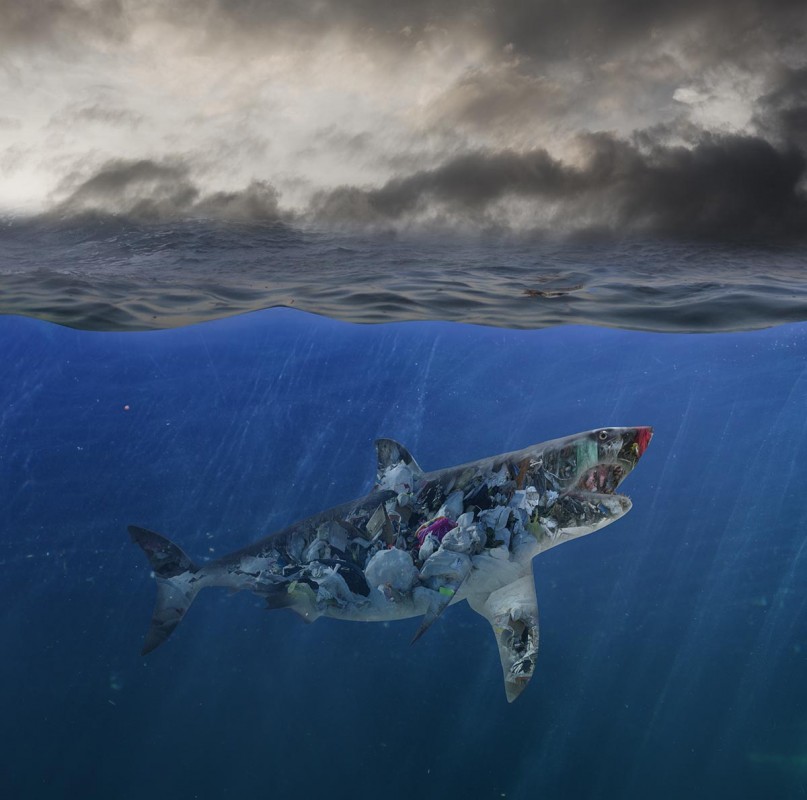 THE PLASTIC BANK
8th December 2017, Vancouver
«Plastic Waves : An Apparel Collection in Collaboration with John Lund, Raising Awareness for the Amount of Plastic Garbage Entering our Oceans with Beautiful yet Horrifying Imagery»
American photo-artist John Lund partners with the Plastic Bank to co-create an ethically and sustainably sourced collection of apparel & accessories carrying John Lund's Art Photography, where 100% of the net profits from each item purchased at Plastic Bank's online store, will help prevent 1000 bottles of plastic waste from entering the ocean.
«Plastic Waves» the name of this apparel & accessories collection, uses extremely powerful photo-art images created by John Lund. The images simultaneously depict beauty and horror to help bring more public awareness to the devastating consequences of the flow of plastic and other pollutants into our oceans.
Last month, the Plastic Bank launched a new apparel & accessories online store in collaboration with Teemill to enable its growing community of supporters around the world to purchase stylish but also ethically and sustainably made T-shirts, bags and other items. Every sale helps Plastic Bank's work in preventing millions of kilos of plastic waste from entering our oceans, while helping people in impoverished and greatly polluted areas like Haiti and the Philippines rise above poverty.
John Lund describes his inspiration for the «Plastic Waves» collection as follows "In a lecture I once attended by creative consultant, Deanne Delbridge, she told the audience that photographers have the responsibility to use their photos to lead the world in a better direction. Those words stayed with me through the years. But it was another photographer's image (I never did find out who the photographer was) that inspired me to create a series on the plastic that pollutes the ocean. It was an image of a turtle with a shell horribly distorted from being stuck in a plastic six-pack ring holder.
After seeing that image I knew I wanted to do something to help bring attention to the problem of plastic pollution in our oceans. I arranged to visit a local landfill and photographed the garbage trucks unloading their daily haul of trash. That shoot gave me the garbage and plastic pollutants I needed for the series. Then it was a matter of going through my archives to find the backgrounds, and in some cases animals, to complete the imagery using Photoshop.
Partnering with Plastic Bank to bring this series to life through a collection of apparel & accessories carrying these powerful images was an amazing opportunity to bring further awareness to this issue and also prevent 1000 bottles of plastic waste from entering the ocean with every purchase made!"
About The Plastic Bank

The Plastic Bank is a platform for the world to gather together to STOP Ocean plastic and alleviate poverty through an award-winning Blockchain recycling ecosystem. The Plastic Bank acts as a convenience store for the world's poor that accepts plastic waste as a currency. All of the plastic collected through the Social Plastic® ecosystem is sorted, recycled, and sold to some of the world's largest companies to use in their manufacturing instead of new plastics. Social Plastic® is Plastic Bank Verified plastic that provides a premium for the collectors in developing countries. In addition to using recycled Social Plastic®, both individuals and companies have the ability to offset their own plastic footprint.
Learn more at PlasticBank.org

Additional information to help create a modified or unique story

Media Files

Please find all of the media kit imagery for the PLASTIC WAVES Collection in the following Google Drive link: https://drive.google.com/drive/folders/1fGNrabuNi-U8b5gGotKPuWeHs2ar74fS?usp=sharing
Please find all of The Plastic Bank media kit imagery & video in the following Dropbox link:
https://www.dropbox.com/sh/36eofk8jbw846hd/AADgtX3rG1-RCI2rS6V4vDDMa?dl=0
Online store address with John Lund's items : https://plasticbank.teemill.com

Founding Members

David Katz - Founder & CEO (david@plasticbank.org)
Shaun Frankson - Co-founder & Chief Strategist (shaun@plasticbank.org)

David Katz is the primary spokesman for The Plastic Bank. Interviews can be arranged by contacting iana@plasticbank.org.

Locations

Headquarters are in Vancouver, BC, Canada. Current operations are in Haiti and the Philippines. The next expansion is planned for Indonesia and Brazil. Global expansion through the app-based platform is targeted for the end of 2017.

Structure

The Plastic Bank is a for-profit social enterprise incorporated in British Columbia, Canada.